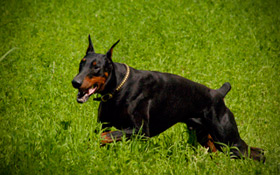 There is nothing like the loyalty of a dog. So much has been well written about our faithful friends. I have known some great ones. When your favourite dog dies, you tell yourself that you'll never let one get so close to you again. Time passes, and another one does just that.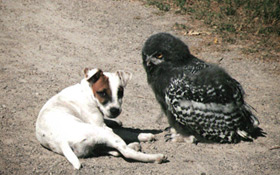 People migrate toward breeds that suit their own character or their needs. If I could only have one breed it would be the German Short-haired Pointer, but I also like the occasional, good Jack Russell Terrier and I have grown to appreciate the Doberman. I would also like to work with a good Standard Poodle some day. To date I have bred German Short-hairs and Jack Russells; in each case with the goal of producing excellent hunting dogs.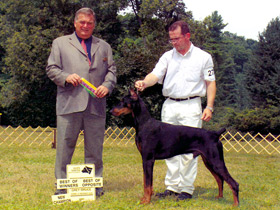 These days my sidekick is Colonel, a four year old Doberman Pinscher that I imported as a pup from Rome, Italy. Registered as Questor del Conte Drago, he became a Canadian Kennel Club Champion in August 2005. Colonel is now available for breeding to females owned by recognized CKC Registered Doberman Pinscher breeders only. His new bloodline will add size, a level temperament and excellent conformation to existing Canadian Dobermans. He is a wonderful ambassador for the Doberman Pinscher breed... very athletic, obedient, loyal, clever, and protective yet friendly. Colonel has inherited impressive natural programming to stay close at hand and to quietly be on guard. Whenever people see him their reaction is the same... they comment on how big and good looking he is, and then are amazed by how friendly and obedient he is.