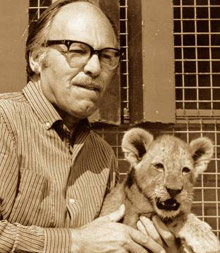 In 1980 Colonel G.D. Dailley (my father in law) was the first person ever granted permission to import the rare Shetland Sheep directly from the Shetland Isles to Canada. He learned of this hardy, primitive breed of sheep during his numerous world travels. His keen interest in preserving all endangered species led him at the age of 55 to found two Safari Parks in the late 1960s which are still thriving today. He persevered and was able to buy sheep registered with the Rare Breeds Survival Trust in England.
During the cold winter of 1980, thirty-two Shetland Sheep arrived at Springfield Farm, the 125 acre farm where Colonel and his wife Virginia lived in the 1836 Heritage fieldstone farm house. There were 28 pregnant ewes all bred to various unrelated rams, and four rams named Duncan, Pierre, Hartland and Colonel. This was a valuable genetic pool that would form the founding blood stock for all of North America. Although these animals were accustomed to surviving on an often meager diet of hay, lichens and mosses in the Shetlands, they flourished in the shelter of the old barn, eating Canadian grain and hay. The first lamb was a white ewe, born on April 1 and Colonel named her April.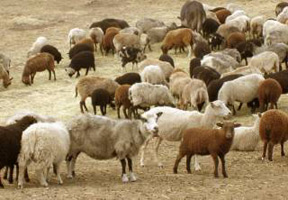 For Colonel's 70th birthday in 1981 we presented him with a home made vest which he cherished and insisted on wearing all year round. It was a bit of a challenge to make though... first I tackled and straddled the four rams as my Mom plucked them (I had read that it was possible to just pull their wool from their bodies - and you can!).
We continue to farm the sheep in Colonel's memory. Since those early days the flock has thrived and hundreds of animals have been sold to sheep enthusiasts and farmers throughout Canada and U.S.A. Careful attention is paid to the breeding so that the widest range of natural colours, best wool quality and the best conformation is maintained. The Dailley flock is officially Flock #1 in the North American Shetland Sheep Registry.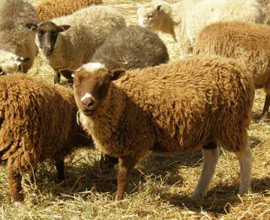 Shetland wool is prized for being one of the finest in the world and the Shetland tradition survives in which a woman should be able to spin and knit a shawl as fine as lace so that it can pass through her wedding ring. In the early 1980s I started to take the fleeces to small Ontario mills for spinning into yarns and have been committed to producing completely natural, organic yarn made entirely in Ontario under the Springfield Farm label. We have sold it annually at an Open House on the farm and at local wool shops.
In June 2007 the Dailley flock of 70 ewes, 18 rams and the lambs of the year was moved after the shearing to the new home Chassagne Farm... a beautiful 92 acres of rolling hills and farmland just north of Springfield Farm. I am more proud than ever of the quality of the yarn we are producing as we launch our new label, Chassagne Farm Pure Canadian Shetland Wool. Yarn, rovings and interesting blends such as Shetland with alpaca and silk are now available through mail order.
I am proud to be a keeper of the friendly little survivor known as the Shetland Sheep and maintain the motto Where Happy Sheep Live!
Carole Precious,
Shepherdess