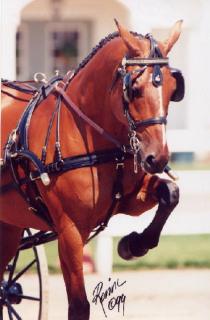 Certain people migrate toward certain animals. My favourite creatures possess speed, grace and elegance. I have always admired horses but it was not until the age of 25 when I moved to the country that I was able to be with them. So I come to horses relatively late in life and with not so much natural ability. But I do have passion, perseverence, a competitive nature and experience with training other animal species.
One misty early evening I was running down my road and coming at me over the hill was an ethereal, ghostly duo… a huge grey horse and rider emerging from the mist, and that is really how it all started. The girl riding was a natural. Judy Snider and I struck up a friendship and made a wonderful arrangement whereby she taught me how to ride and I taught her how to fly birds. So often I would watch her galloping across a field arms in the air, her long legs easily molded to her horse, singing and laughing. Judy later joined the circus performing with elephants, dogs, horses, baboons, sea lions and parrots and has lived that nomadic, unique life ever since.
Meanwhile I rode, but never very well and it was my ferrier Jean Paul Gautier who suggested that I should try driving and offered to teach me. That winter we drove at least two times a week, often having to take turns holding the lines while the other warmed up. By spring we started to compete in Pleasure Shows, then Combined Driving Shows. I drove a home grown speedy Canadian gelding named Winston and we made alot of novice mistakes together.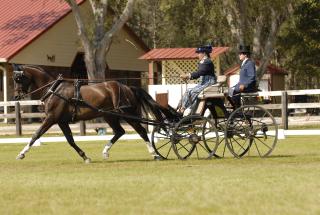 A couple of years later I met Morris Kerr who taught me the finer points of horsemanship for several years. Michelle Belbeck, Martine Gautier, Jill Marvin, my son Daniel Dailley, Vilika Zafirides and Kim Jeffries helped me by navigating and grooming.
More recently I have been so fortunate to share a wonderful friendship with Chester Weber who coaches me in a way that really works for me. If a mere iota of his discipline and skill can rub off on me, I'll consider myself fortunate. How you approach driving is a metaphor for how you approach living; Chester is a champion. He is a master at figuring out what motivates a creature or a person, and strives constantly to make them perform to the best of their ability, often utilizing unorthodox means. Together we found a wonderful horse in Germany, a dark bay Oldenburg who has been an exciting challenge. Sinatra can be a fire breathing dragon but he has moments of brilliance and he has managed to captivate my attention and devotion. He is a hard working, tough, elegant loner. Gradually we have trained to work as a team and my goal is always to string together those moments of brilliance in practice and in competition.
Finally I enjoy so much the training and competing times I have shared with my navigator and close friend, Saskia Leijten, a true horse woman. These days my trusty navigator is Tom Coverdale.