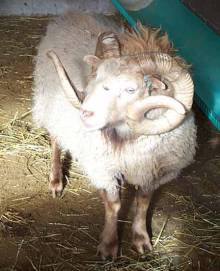 Old Fuzzy Head died today, February 19, 2007. He was so old that I'll have to look back through the records to know how old he was. I should always add a couple of years to whatever I think. He was at least a twelve year old Pale Moorit ram. He only had one tooth left in his head, his back left leg didn't work so well, he had to be separated from the other rams who would gladly have pummeled him to death and he hadn't sired young for quite a few years. BUT… he still got to live at Springfield Farm and was still the patriarch of the flock, as far as Jeanette my trusty sidekick, and I were concerned. The last vision I have of him was yesterday afternoon as I watched Jeanette take him his handful of grain . Ol' Fuzzy Head limped on quickly after her, calling to her with his tongue sticking out, all excited to get his hand fed meal.
I have finally figured it out… keeping sheep is an allegory for how we keep ourselves… my goal is always to have happy, healthy, fit animals around me. I also honour that when an animal has served you well, it deserves to live its full and natural life as long as it is not enduring unreasonable pain. In the eighties when we first had the original 32 animals blossom into one thousand in their heyday, I loved caring for the flock, especially in the winter. Snow fences barely kept the road clear and oftentimes my son Daniel and I crawled and climbed our way on foot through the snow drifts up the long driveway to reach the barn. The colour groups were separated into the different fields. I had to drag a hose from the basement of the house to the troughs, haul buckets of grain to the fields on foot and keep paths clear for my wheel barrows of hay. The sheep hunkered behind straw stacks for protection. The work was so grueling that by noon I was starving and it was all I could do to drive ten minutes down the road to a diner. As soon as they would see me enter they would deliver the bowl of hot soup to me. But I only lost one ewe in that whole cold winter when I was responsible for one thousand sheep and I was sorry that I lost her. I basically took care of the flock alone every day and loved it.
Things have changed a lot over time. Now we go into the winters with roughly 80 ewes and 20 rams. Eight to ten rams are used for breeding and put into pens with their ewes. Since the century old barn burned down, it was replaced by a functional three sided barn open to the south . The rest of the young rams are being brought along for future breeding and to maintain good genetics.
This is a big turning point for me. For the first time in 27 years I am soon going to move the flock to my new farm "Chassagne", located just fifteen minutes north of Springfield Farm, near Guelph, Ontario. I am enjoying a sabbatical and hope to be able to review all of the breeding records and get the registrations updated for the flock. For the past years, taking care of the flock was one of my many responsibilities, and when one considers everything, I am still very proud of our sheep. Especially in recent years I have been pressured to get rid of the sheep as they were considered to be a money losing venture .I have always known exactly why I keep the sheep… in honoured memory of the Colonel and his mission of keeping and breeding rare and endangered animals. I know I'll always care for the Dailley flock.
Over the years the sheep have taught me so much… how they think and what they need. I like the daily and annual routines of caring for them… the excitement, action, surprises and noises of the lambing; the physical labour of the shearing, and reaping the rewards of these wonderful renewable resources with their annual wool yield… always loving the colour, variety and touch of the fleeces. There is always something peaceful about these sheep. So often I have rushed up the lane to see them only to find that the sight of all the mothers and babies in the field would calm me down. So often I have just sat down in the lambing pens and quietly kept company with the ewes. Friends who come to help with the chores invariably pick up the lambs smelling, snuggling, cooing over them and somehow for a while, everything is right with the world. Certain sheep, especially the few who have been hand raised, are real characters who have to make you smile. Invariably certain sheep each year get names like Natalie, Pippi Longstockings, Bessie, Dixie, Sweet Pea, Boots, Lucky, Lately… you see, they become individuals whom you get to know very well. Mothers, daughters, grandmothers… generations with similar recognizable traits. The rams are so impressive for their hardiness, their tenacity and the older ones, with their huge "racks" deserve and receive respect .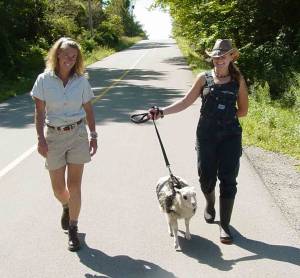 A couple of months ago we nursed Dixie, a lovely ewe lamb whom we hand raised this summer, until she died after a couple of weeks of suddenly failing. I still think about her almost every day even though a necropsy revealed that she had somehow suffered nerve damage in her neck and all of our nursing couldn't save her. How can such a vital, young, perfect lamb die and an old fart like Fuzzy Head live for so long? Ah Nature.
I am looking forward to the future. Between Jeanette and me we can tackle any ewe or ram and take care of the flock. We get a great workout each day. We often work together, amid a lot of quiet time, grunting, laughing, crying, discussing, observing , cursing and thinking… We are in the quiet, serious winter season now. A hopeful, active spring is around the corner. Yes, keeping sheep is a wonderful way to live.

Carole Precious,
Shepherdess